Your Visual Java Library
filled with amusing features and animation effects
Visual Java/SWING Components Library
Make your Java application or applet look different by using extended Java SWING components!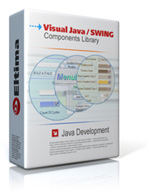 Visual Java/SWING Components Library contains everything you need to build attractive graphical interfaces: panels, tabbed panes, tables, menus, text, date and image fields, labels, combo-boxes, various types of buttons (standard, radio, hyperlink and so on). Different visual effect such as bevel text/border, fade in/fade out, rounded borders and color gradients could be applied to applications controls making more stylish GUI. VJCL provides a simple to use object-oriented developer API which is based on the standard Java SWING library and greatly extends it.

Visual Java/SWING Components Library can be used for developing cross-platform Java applications or applets. Focused on flexibility, it lets a developer extend the functionality while throughout documentation (using JavaDoc) and code samples will help you start the development straightaway.
Common objectives and our solutions:
implement simple image manipulation functionality
Visual Java/SWING Components library allows image zoom in/zoom out, rotation, moving, scrolling, opening, saving and options customization. It is really fast and stable component you may rely on.
create database oriented tables
Visual Java/SWING Component library lets you create full-fledged database application or applet. It lets you add/remove, group, sort, filter and search in table columns and rows; find the sum, maximum/minimum values in the columns; expand and collapse table groups; create multi-level table headers; customize header/group colors (foreground, background), select the font and text orientation. You can search not only in the data currently presented in the table, but also refer to the database connected with the component.
add amusing visual effects
To save developer's time and efforts Visual Java/SWING Components Library offers professional visual effects,such as fade in/fade out mouse-over effects, color gradients, color opacity and gradient direction, animated buttons, different buttons shapes, rounded panel border.
develop user-friendly table navigation toolbars
These controls allow enhancing table management by improving table navigation, adding or duplicating entries, adding/deleting rows, saving rolling-back changes and much more. Coupled with Table component it helps developer create advance database application.
Visual Java Components Library Overview:
Amazing visual effects (3D border effects, color gradients, button animation, hyper-link buttons, etc.) for Java applications and applets
Create customizable, searchable, expandable, multi-level table headers using Table component
Advanced table management (show/hide columns, roll-back changes, and so on)
Enhanced tabbed pane with lots of visual effects: animated tab switching, fade in/fade out mouse-over effects, customizable active/inactive tabs visualization
Versatile image manipulations (zooming, rotation, scrolling, etc.)
Display database query results in advanced combo-box (highlight, filter results and many more)
Background/foreground colors for almost every control
Comprehensive API documentation
Great number of sample code provided to facilitate the start
All major visual integrated development environments are supported
Visual Java Components Library Purchase Info

Choose a corresponding license and click to navigate to a secure site of our payment processing system. We use services of Element 5, which is a world's leader e-commerce provider for software sales via the Internet.
License type
Price
Get it now!
Single License
99.95 USD/

75.95 EUR

buy now
Upgrade from version 1.x/2.x/3.x (50% discount)
Mail us
2 and more licenses
Mail us
Unlimited site license
Mail us
Once you have purchased our software by filling out a form on their website, you will receive your registration information immediately (if you choose to order via Element 5).
Note, that registration information is sent immediately not for all products ordered via Element 5. For some products Eltima sends it after manual verification which might make a bit longer than usual Share-it processing. See more details at our Customer Care Center.