Java SWING Components
Eltima Java SWING Library for GUI developers

Java-library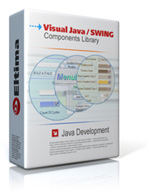 Visual Java/SWING Components Library
Provides a simple to use object-oriented developer API which is based on the standard Java SWING library and greatly extends it.
Amazing visual effects for Java GUI, applications and applets
Lets you create complex tables and manipulate table data
Works on any Java compatible OS
Java SWING Components Library
contains everything you need to build attractive
GUI
(graphical user interface): panels, tables, menus, text, date and image fields, labels, combo-boxes, various types of buttons (standard, radio, hyperlink and so on). Different visual effects of this java gui builder such as bevel text/border, fade in/fade out, rounded borders and color gradients could be applied to applications controls making more stylish GUI. For GUI developers Java SWING Components Library brings a whole lot of new ways to present their creativity to customers and clients.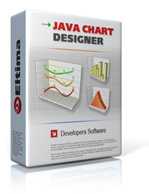 Java Chart Designer
Creates professionally looking charts and graphs at zero time.
Allows customize every detail of the charts
Exclusive chart animation
No limit on data source number
It offers up to 30 different chart and graph types including Lines, Areas, Bars, Columns, Pies, Doughnuts, XY and Bubbles. You may apply various 2D/3D effects and predefined color styles or create your own visual effects. Chart animation will emphasize the trends and tendencies in every data sequence, making your chart more readable for other people.